Location
Théâtre des Champs-Elysées
Subtitles
German,
Spanish,
Italian,
English,
French
Orchestra: Les Musiciens du Louvre and their Academy in partnership with the Jeune Orchestre Atlantique
Chorus: Chœur de chambre de Namur
Photo credit
© Vincent Pontet
Main informations
Offenbach was at the height of his fame when he wrote this delightful and entertaining portrayal of Parisian society. With a dizzying libretto by the duo Meilhac and Halévy, he composed a delightful ode to the festive pleasures of his time. The Palazzetto Bru Zane and its members offer the discovery of the original version of La Vie Parisienne as imagined by its author in 1866. The complete orchestral material of the Orchestre du Palais-Royal has recently been unearthed and contains the music created on the evening of the premiere, as well as precious performance indications added while the composer was at work. Two new acts feature completely new music. The pre-censorship libretto and forgotten variants offer a different take on some of the most famous arias. A La Vie Parisienne that has never been performed before, but which retains the charm and presence of the pages that made its reputation. A fine team of French singers sets Offenbach's masterpiece alight, here enlivened by the colours and elegance of Christian Lacroix.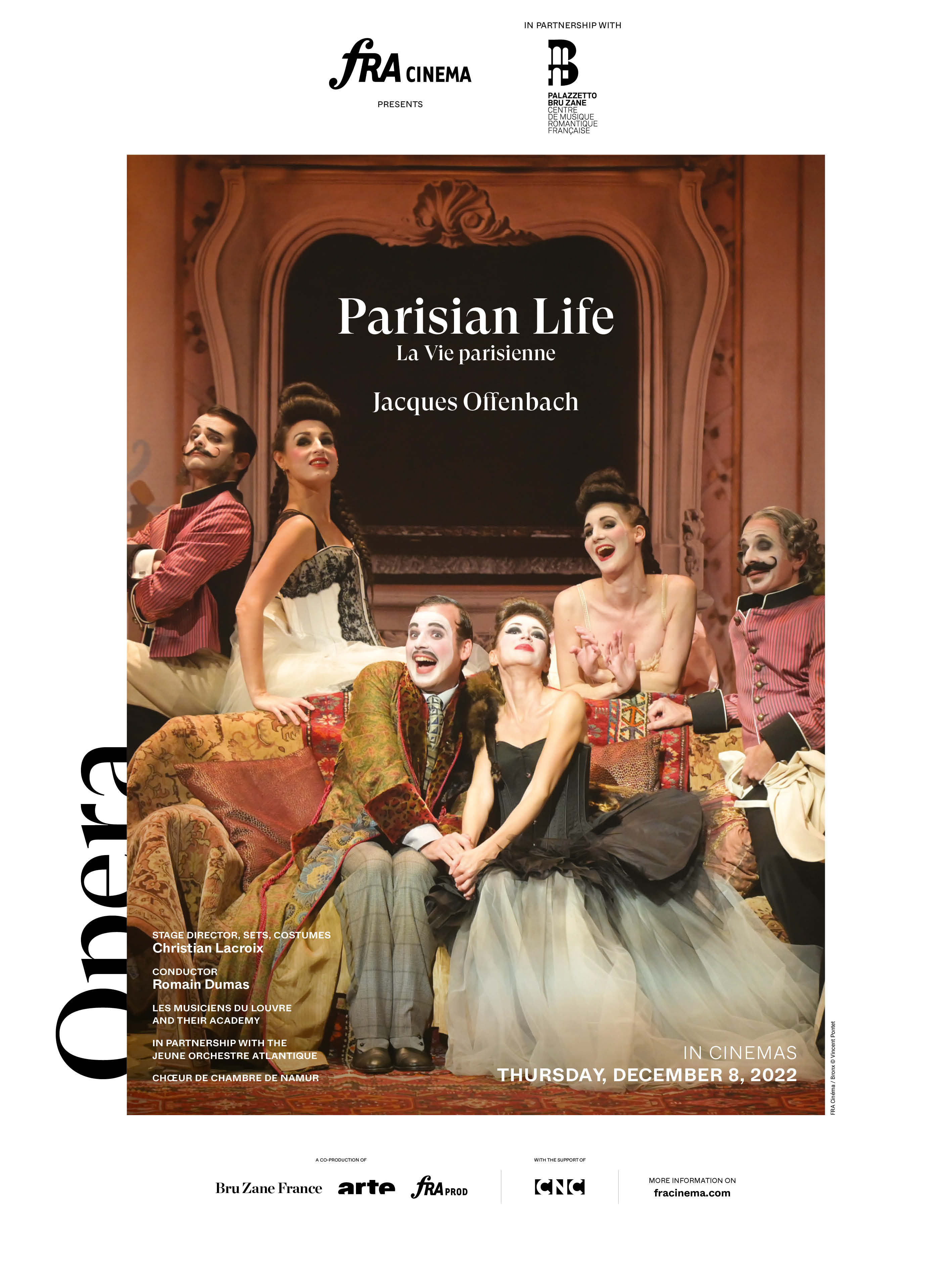 Artistic team
Opéra-bouffe in five acts
Music by Jacques Offenbach
Complete original version of 1866
Libretto by Henri Meilhac and Ludovic Halévy
Musical direction / Romain Dumas
Stage direction, sets, costumes / Christian Lacroix
Staging collaborators / Laurent Delvert, Romain Gilbert
Choreography / Glyslein Lefever
Lighting design / Bertrand Couderc
Orchestra / Les Musiciens du Louvre and their Academy in partnership with the Jeune Orchestre Atlantique
Chorus / Chœur de chambre de Namur
Executive producer of the stage production / Bru Zane France
Cast
Gabrielle / Jodie Devos
Gardefeu / Rodolphe Briand
Bobinet / Marc Mauillon
Le Baron de Gondremarck / Franck Leguérinel
La Baronne de Gondremarck / Sandrine Buendia
Métella / Aude Extrémo
Le Brésilien, Gontran, Frick / Éric Huchet
Urbain, Alfred / Laurent Kubla
Joseph, Alphonse, Prosper / Carl Ghazarossian
Madame de Quimper-Karadec / Ingrid Perruche
Madame de Folle-Verdure / Caroline Meng
Pauline / Elena Galitskaya
Clara / Louise Pingeot
Bertha / Marie Kalinine